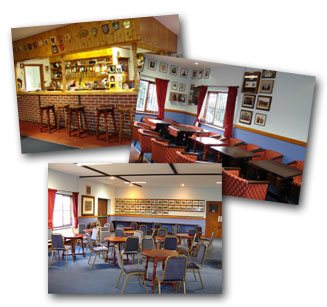 Our Clubhouse is available for social or business functions:

Wedding receptions
Anniversary parties
Seminars
Discos
21st, 40th birthday parties, etc.
Match day corporate hospitality
Features include a fully-staffed bar (exceptionally low prices)
and use of the kitchen.
Our resident caterer, Gary Powell, is happy to discuss any requirements
including cold buffets, three-course hot meals and barbecues.
Prices
Club members — Free
(except £20.00 to cover cleaning costs)
Non-members — £50.00 + returnable deposit of £100.00
(includes Social Membership fee & cleaning costs)
Please note that the Clubhouse is unavailable for 18th birthday parties.
Should you require a marquee for your function, this can also be arranged:
click the logo below for details.

For further details please see our Contact/Info page.